Last Updated on March 3, 2021 by Nirav Patel
Gaming has become like a hobby and sport for the younger generation. Kids and adults not only play games for fun but they play for passion and to develop some sort of skills.
Gaming setup can cost you some bucks to some lacs. Apart from the system, major elements of the gaming setup are the controllers, mouse, and keyboard. There are many advanced gaming keyboards and gaming mouses available in the market but not everyone can afford that.
Your gaming experience highly relies on the features and performance of these types of gaming equipment. Therefore it is very important that you spend your money smartly on your gaming peripherals. And to help you with one of the most important tools called gaming keyboards we have curated this list of the top 10 best gaming keyboards under 2000 Indian Rupees.
We have incorporated all the necessary information for you to understand and pick the one for your requirement.
1. Zebronics Zeb-Transformer-k USB Gaming Keyboard: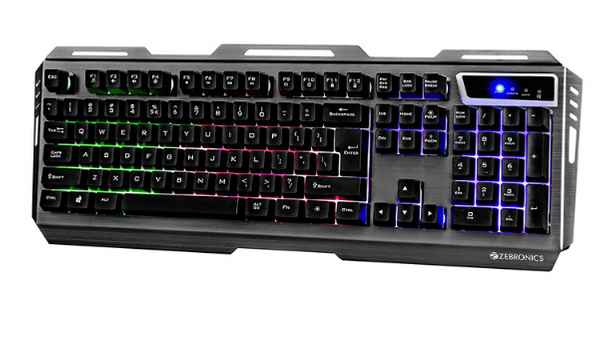 Zebronics brand has some of the best gadgets at a reasonable price. Zebronics Zeb-Transformer-k USB Gaming Keyboard is one of the best additions under the affordable gaming keyboards category from this brand. It comes with beautiful LED lights and a strong aluminum body.
Some amazing features of this keyboard:
Quite a cheap gaming keyboard with many great features.
It has integrated media control, laser keycaps, and an aluminum body.
It has all key disable and enable functions.
This keyboard has a braided cable and a high-quality USB connector.
The Button's stroke life of this keyboard is 80 million times.
USB interface with 1.8M long cable.
Pros
It is not a mechanical keyboard.
Comes with a nice rubber pad which makes it a perfect nonslip design.
On an amazon purchase, you can get a 1-year warranty.
It has interchangeable arrow keys and WASD.
Cons
It is not completely backlit, only key gaps are visible in the dark, not the key labels.
Not all keys are easy to use, some require more effort.
It has only three light modes available.
Sometimes input transfer issues occur.
2. Redragon Asura K501 USB Gaming Keyboard: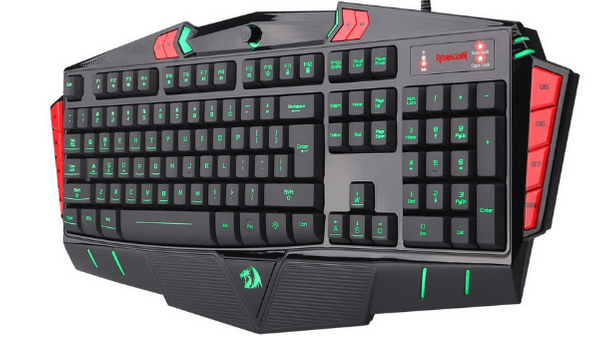 Redragon Asura K501 USB gaming keyboard is one of the strong models from the Redragon brand. It can withstand the rough usage of daily gaming. With interchangeable arrow keys and WASD keys, you can have an easy gaming experience. This one is the ideal choice for an accurate and high-quality experience at a cheap rate.
Some amazing features of this keyboard:
Comes with 8 programmable micro keys and no software is required for setup.
Compatible with Windows 8, Windows 7, and windows vista.
It has 7 color backlit keys with adjustable brightness and pulsing rate for LED lighting.
This keyboard has 104 standard keys, 32 conflict-free key options, and 12 multimedia keys.
Independent lock is also present with this keyboard.
Pros
Designed for comfortable usage.
The wrist rest is big enough and keys are perfectly placed to prevent an uncomfortable experience.
This keyboard is splash resistant.
Easy to use 8 programmable micro keys.
Not a mechanical keyboard.
Cons
The sound of clicking is a bit loud.
Some keys like spacebar, backspace, etc. are not perfectly lit.
Enter key is also quite far.
3. Cosmic Byte CB-GK-17 Galactic Wired Gaming Keyboard: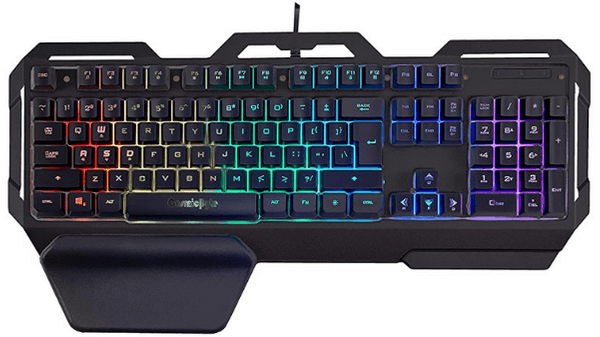 This model is a great keyboard for long-term usage and you can find it under the 1500 INR category. It is a bit heavy due to its aluminum body but that makes this keyboard sturdy enough for heavy gaming. It comes with internet hotkeys and all the keys are scratch-resistant with this keyboard.
Some of the amazing features of this keyboard:
Comic byte CB-gk-17 keyboard has 7 color RGB backlit and 4 levels of brightness. adjustment with 9 backlit effects.
It is from a reliable brand and it has 19 anti-ghosting keys.
Beautiful design with hand support feature.
Cheap gaming keyboard with a mechanical feel.
Easy to clean and easy to use.
It has galactic interphase.
Pros
A strong metal body finish makes it a sustainable gaming keyboard.
You get 19 anti-ghosting keys.
Comes with elevated keys for a better tactile experience.
Stylish and comfortable design to compliment your gaming set up.
Comes with 9 types of RGB mode.
Cons
No strong cons with this keyboard.
4. Dell KM117 Wireless Keyboard & Mouse Combo:
This combo provides you both the accessories of a gaming setup; a gaming mouse and a gaming keyboard at a very affordable price. Dell is a well-known brand from years in the computer accessories industry. Highly reliable and highly sustainable. You get a manufacturing warranty and some fantastic features at a cheap rate.
Some amazing features of this combo:
You get all the functionalities of the mouse and keyboard in a single purchase.
Classy and elegant design.
Compatible with all the major operating systems like Windows 7-8-8.1-10.
Perfect sized keyboard with responsive keys and multimedia short keys for easy access to audio.
A wireless keyboard and mouse with a long-lasting battery.
Pros
Both keyboard and mouse are well built with quality material.
It has chiclet keys.
Keys are soft and quiet.
The Bluetooth receiver which you need to plug through the USB port is small and works. for both of the devices.
Amazing performance at this cheap rate.
Cons
Mouse in this combo comes with an on and off switch but the keyboard doesn't have any switch for that purpose.
Indicator for a num lock, function key lock, and scroll lock is absent which creates some difficulties.
5. Ant Esports MK1000 Multicolour Mechanical Gaming Keyboard:
Ant Esports MK1000 is a small-sized compact keyboard for your daily use. It is a tenkeyless mechanical keyboard and therefore it doesn't include a number pad. Premium quality and tactile feel make this keyboard one of the best cheap mechanical keyboards. Ideal for professional gamers and beginners.
Some amazing features of this keyboard:
This keyboard has 6 colors LED-backlit and this keyboard has different colors for each row.
Comes with 6 preset lighting effects.
It has 87 anti-ghosting keys and N-key rollover which allows multi keys to work. simultaneously with high speed.
The Outemu Blue switches in this model provide an accurate and responsive key command for a better gaming experience.
Pros
High quality and high durability.
Compact size saves a lot of space and provides comfortable usage.
Many high-end features at a cheap price.
This keyboard has 50 million keystrokes of lifespan.
One of the best mechanical keyboards in the affordable category.
Cons
Each row has a specific color no RGB options are available.
6. HP KM300F Gaming Keyboard and Mouse Combo:
HP is one of the leading names in the computer accessories segment. They provide so many amazing tools and accessories in all price ranges. This HP KM300F gaming keyboard comes with a mouse as well as a combo purchase. It is made up of plastic and metal material and this model is a membrane type of keyboard.
Some amazing features of this keyboard:
Elegant design with a tactile feeling and it is scratch-resistant.
The keyboard and mouse come with RGB lights.
It has rainbow LED lighting effects and 3 lighting modes.
In this keyboard, keycaps are removable which makes it easy to clean and maintain.
The mouse with this keyboard has a DPI of up to 6400.
Keyboard has a 1.6m long cable and the mouse has a 1.5m long cable.
Pros
The quality of this keyboard is pretty awesome at this price range.
Comes with a professional backlit and all keys are visible in dark. It has perfect. brightness levels for a great gaming experience.
This keyboard has a 10 million keystroke lifespan.
This one is just the perfect keyboard for beginner gamers.
Cons
It has no backlit customization, you only get RGB mode all the time only brightness. levels can be customized in breathing mode.
Caps lock and num lock indicator does not work sometimes.
7. Zebronics Zeb-Magnus USB Gaming Keyboard:
Zebronics brand is one of the great brands from India. And it does provide the best quality products at a reasonable rate. Zebronica Zeb-Mangus USB gaming keyboard is yet another installment from this brand; this one is very premium and much better than many entry-level keyboards. Comes with 120 keys and dedicated multimedia keys.
Some amazing features of this keyboard:
This keyboard has a multicolor LED-backlit with four modes.
Windows key has the enable and disable options.
Mode up from high-quality plastic.
It has a gold plated USB connector and a 1.8m long braided cable for extra durability.
Comes with 15 programmable micro keys to customize function as per your need.
This keyboard has a 10 million keystroke of life span.
Pros
Very good membrane keyboard under 2000 INR.
Comes with advanced windows software to help you with the programming of 15 functions.
It has a backlit on and off feature.
The design and tactile look of this keyboard make it really appealing for the gaming experience.
It has a key of a rupee sign.
Stylish and futuristic for the gaming setup.
Cons
No strong cons are there with this keyboard.
8. Redgear Canyon Gaming Keyboard with 10 led Modes:
This one is another well-performing model from the brand Redgear. A canyon gaming keyboard is a well structured and well-built keyboard. A simple and slick design makes it more attractive. This model comes with injected double keys and you can see a bright red color all over the place and that's the unique design of a gaming keyboard.
Some amazing features of this keyboard:
Strong and premium quality.
This one is a heavy and sturdy keyboard for experienced gamers.
Comes with 10 LED modes.
Have an extra key for the windows lock.
LED lighting is present at the base of the keyboard as well.
Pros
Keys are not hard for you to have a comfortable experience for hours.
Some common and frequently usable keys have extra springs to provide long life.
Comes with a braided cable.
Cons
It does not have any space for the palm rest on the keyboard which can make it uncomfortable to use on long usage.
No cable management system.
9. Cosmic Byte CB-GK-12 Neon Rainbow Backlit Mechanical Keyboard:
CB-GK-12 is one of the best selling models from the cosmic byte brand. This keyboard 104 keys full-sized mechanical keyboard with an aluminum body. It is strong and sustainable for heavy games. Feedback of the keys is excellent with a nice tactile feeling and medium noise. Rainbow LED backlighting gives a smart look and gaming functionality.
Some amazing features of this keyboard:
This is a sleek designed wired keyboard with an aluminum body.
It has blue switch keys for a better tactile experience.
This neon rainbow backlit keyboard is a good entry-level mechanical keyboard.
This keyboard is supported with windows ME/2000/XP/VISTA/7/8/10 and above, Linux & Mac.
All keys are scratch-resistant with 50 million keystroke life.
Pros
This keyboard comes with all anti-ghosting keys to ensures correct registration.
Comes with a windows lock key.
It has internet hotkeys and media hotkeys.
This keyboard offers 10 backlight effects, 3 level brightness adjustments, and 3 level backlight speed adjustments.
Comfortable design with stylish look.
This Neon Keyboard has a high-performance chip with online update support to keep you in sync with the latest updates.
Each row has specific colors for the keys.
Cons
The RGB light pattern gets reset every time you turn off the system.
10. TAG GAMERZ Gaming Mechanical Warrior Keyboard:
Tag Gamerz is not a well-known brand of computer accessories but this model by this brand is undoubtedly a great performing gaming keyboard. This one is a mechanical keyboard with floating key architecture. At this price range, this Tag Gamerz Warrier keyboard is a great deal with All the required features and great quality designed with a fascinating look.
Some amazing features of this keyboard:
Made of premium quality plastic.
It has outemu blue mechanical keys for a better gaming experience.
This keyboard has a 1.8m long and durable braided USB cable.
The keycaps are double injected and have a transparent finish to make the backlit more visible.
Pros
This keyboard comes with Outemu switches with 50 million keypresses of lifespan.
Great for competitive as well as easy games.
It has an anti-ghosting feature to make sure correct registration.
Compatible with all windows and mac operating systems.
It has a floating RGB design which makes this keyboard attractive and bright.
Comes with rainbow color LED per key and it has 18 different light effects.
Cons
Floating switches can sometimes compromise the performance.
The palm rest of this keyboard is very short and doesn't provide enough comfort.
Conclusion:
If you are a gaming nerd or developing an interest in games then you definitely require some good gaming accessories to win all the battles. A normal keyboard can also work in your games but a gaming keyboard not only does the job but improves the actions and gives you the optimum experience.
Few things you need to consider while selecting your gaming keyboard like build, type of the keyboard, features, lighting, and type of the keys. We have curated this list with some of the amazing gaming keyboards under a normal and affordable price range to help with the selection of your ideal gaming keyboard.
The post Best Gaming Keyboards Under 2000 appeared first on PC Gaming Accessories | Mouse, Keyboards, Headsets, Controllers | India.